An informal survey...
Here then is Dinky Bo Bo. Dinky, I'm hoping, will become a regular character at Mr Shiny.com but I thought I might get some T-shirt sales happening first.
So I've a question for you...either email me or leave a comment.
First off - would you like this little fella on a T-shirt or jumper or something?
Second...Do you prefer his name underneath him such as in the image below or just Dinky on the front with his name on the back of the T-shirt along with my website url?
Ta!
Rossco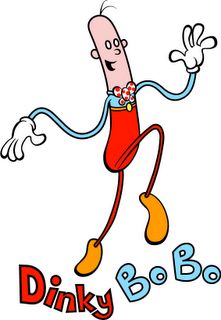 Would you trust this fellow to mind your kids?